aCORdo emerges from the invitation Alice Ripoll received to create a piece that should dialogue with the question of what would have remained as a legacy for the city after the great events that supposedly would bring improvements to Rio, the World Cup and the Olympics. Without giving a literally answer to the question, the artist proposes to think the city through the perspective of the performers she has been working with for eight years. They are black and live in a favela (slum).

At the core of the balance that protects Rio de Janeiro from chaos is the police action. It is a key element that keeps the rich people away from the violence generated in a city full of deep inequalities. The most used action is the "check" (are you carrying anything illegal?), which serves to intimidate (without hitting or not) the poorest population. For each movement of the middle or upper classes on the streets, a "check" occurs in the slums, where death dwells. Someone has to do the service. The police do this.

The people who attend theaters, beaches, or the shopping malls, are thus protected from "arrastões" (a collective robbery), and from contact with the poor, who are intimidated by the "check" and by other invisible mechanisms. Once intimidated they do not occupy the city and only transit between favelas (slums). The "check" is a border, a wall action.


The one who is a bricklayer, who goes to your house to fix the stove, who cleans your university, who served you coffee in the foyer: he is a rap singer, a poet, he is jealous, he gets stuck in the traffic jam, he dies of love, he is a contemporary dancer.

Who's stealing what? Whose crime is it?

Here in this aCORdo we occupy the body, problematizing the contours between the states of wakefulness, dream, thought, action, and habitation (of the body). In this cloud of dim contours, we suggest, through movement, a new zone between the public (space) and the artist (private) where other possibilities of occupation of spaces and bodies emerge. In a closed room, the restricted space for freedom, four uniformed dancers create images and sensations face to face with the audience.

Dance creates mysterious, unpredictable and out of the word bridges, there reside its power and capacity of transformation.


Translation note: the word "acordo" in Portuguese has a few meanings such as: Wake up, agreement, accordance, keeping, cartel and convention. Another possibility of reading of the title is in the way it's written: a-COR-do if separated is (the-color-of).

Director
Alice Ripoll

Cast
Alan Ferreira, Leandro Coala, Romulo Galvão, Tony Hewerton

Assistant
Anita Tandeta


Photos and video
Renato Mangolin

Design
Daniel Kucera

Rating
14 anos

Duration
30 minutos


Stage photos
By Bea Borges





Artistic photos
By Renato Mangolin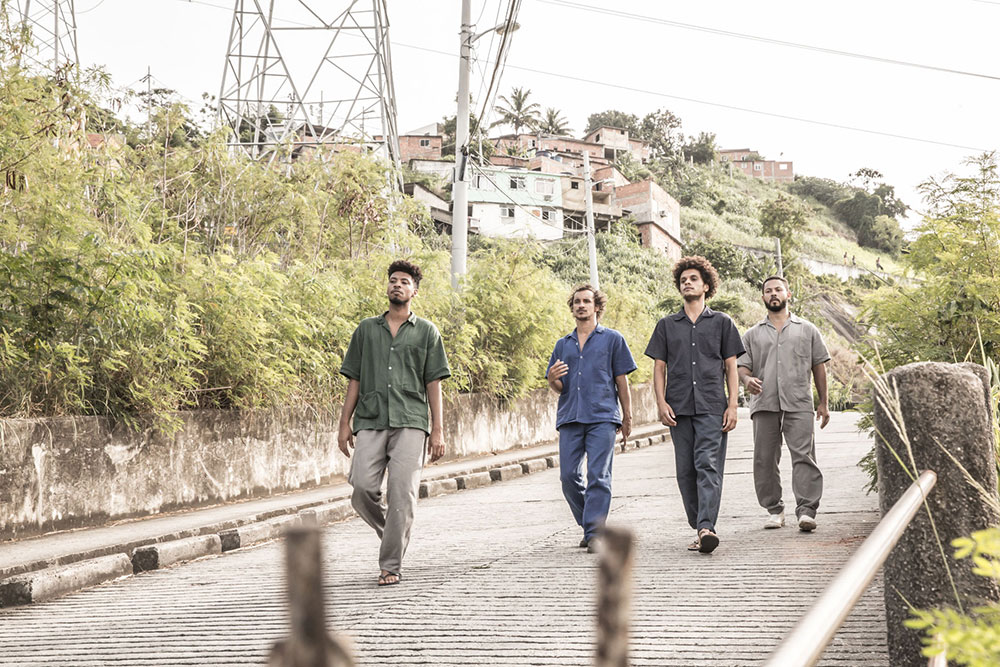 Technical info

The performance does not use sound or scenic light, just a room with chairs and a door.






Trajectory

Mar 2017
Que Legado - Castelinho do Flamengo (Rio de Janeiro, Brazil)

Jun2017
Que Legado - Teatro Sérgio Porto (Rio de Janeiro, Brazil)

Jul 2017
Casa do Povo (São Paulo, Brazil)

Aug 2017
Centro de Artes da Maré (Rio de Janeiro, Brazil)

Nov 2017
Panorama Festival (Rio de Janeiro, Brazil)

Mai 2018
Kunstenfestivaldesarts (Brussels, Belgium)

Jul 2018
Festival de La Cité Lausanne (Switzerland)

Apr 2019
Zurich Moves (Switzerland)

Apr 2019
Centre pompidou (Paris, France)

Apr 2019
Festival DDD (Porto, Portugal)

May 2019
Kaserne (Basel, Switzerland)

May 2019
Wiener Festwochem (Austria)

May / 2019: Rencontres Chorégraphiques (Paris, France)

Sep 2019
Ruhrtriennale/PACT Zollverein (Germany)

Sep 2019
Bienal SESC de dança 2019 (São Paulo, Brasil)

Oct 2019
FIAC Bahia (Salvador, Brazil)




Press release